David Bruns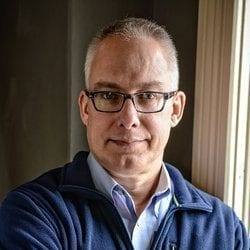 David is a former submarine officer who left the business world behind to write about sci-fi and spies.
After meeting Tom Clancy and reading The Hunt for Red October as a midshipman at the Naval Academy, he spent six years as a commissioned officer in the nuclear-powered submarine force chasing the Russians in the frigid waters of the North Atlantic. When the Soviet Union collapsed, David left the Navy for corporate life. For two decades, he schlepped his way around the globe as an itinerant executive in the high-tech sector, and even did a stint with a Silicon Valley startup.
David is the creator of the sci-fi series The Dream Guild Chronicles and INVINCIBLE, the best-selling tie-in novel to Nick Webb's Legacy Fleet military sci-fi series. His short fiction has appeared in numerous venues including Compelling Science Fiction, Future Chronicles, and Beyond the Stars.
David also co-authors novels in two different genres. With retired naval intel officer JR Olson, he writes national security thrillers that look less like fiction every time he checks the news. Their latest novel, Rules of Engagement, comes out in June 2019 from St Martin's Press (Macmillan).
With co-author Chris Pourteau, David write the sci-fi series, The SynCorp Saga, about the corporate takeover of the solar system.
David's Website