Ray Else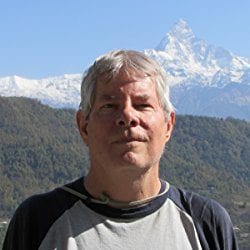 American, Texan, Parisian.
Ray lived in Paris years ago and while there joined a writers group and dared to write with all his heart. Got his story Surviving on Mexican Shade picked up by the BBC World Service, which broadcast the story worldwide. Got an agent, and dreamed of being a famous writer but that dream dissolved and Ray had to focus on making his living writing software for the likes of Schlumberger, IBM, and Rocket Software.
A few years back a writer friend told Ray about a writers conference in York, England. At the conference he received encouragement and advice from a striking Italian agent who told him that he should turn his attention to crime writing, because, as she put it, "Crime pays."
Although Ray stopped short of getting into crime, he did write the well reviewed novel "All that we touch," and his new intriguing sci-fi books "Our Only Chance" and "Fountain of Souls".
Ray's short story that helped spark his novels, First Kiss, is available from Galley Beggar Press.
Ray travels widely, to research locations and get inspiration for his novels.
Ray's Website
Sorry, no content matched your criteria.