Vincent Trigili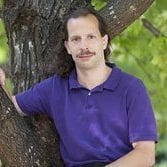 Vincent, father, and husband of nearly two decades, holds degrees in both Math and Computer Science. In addition, he has published an astronomy journal, numerous articles, poetry and other works.
He got his start in writing fiction as a small child, losing himself in the worlds he dreamed up in order to escape the doldrums of normal life. Now, using his formal education and extensive career experience, he excels in creating fictional worlds of depth and rich fantasy, while maintaining a foundation of reality based on science and technology.
Vincent's Website
Sorry, no content matched your criteria.